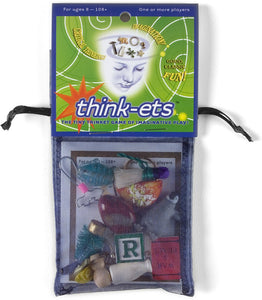 Continuum Games
Think-ets Blue
Regular price
$14.80
$0.00
Unit price
per
ENDLESS POSSIBILITIES: Think-ets are small, unique treasures that allow your little ones to explore their imaginations in new and exciting ways. Bring them with you for a quick game during the day.

STORYTELLING: Combining both physical interaction and imagination, Think-ets make it possible for children to create endless stories utilizing the creative trinkets included.
RESTAURANT DISTRACTION: Think-ets are a perfect way to keep your kids entertained and your phone in your pocket when it's time for peace and quiet, such as waiting at a restaurant.

TEST YOUR MEMORY: Not only do Think-ets work perfectly for storytelling, they also are great for memory building. Stretch their skills with a challenging memory game using these fun trinkets.

ON THE GO: In a compact traveling pouch, Think-ets can go anywhere. Take them to a restaurant, in the car, at the park, or to your favorite campsite.
Choking Hazard: Recommended for ages 3+

---