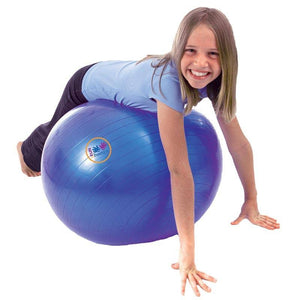 Fun and Function
Therapy Balls
Regular price
$39.80
$0.00
Unit price
per
PRE-ORDER ITEM: This item will take 4-6 weeks to arrive after your order is placed.
The Ultimate Anti-Wiggle Seat

Use our therapy ball as a balance ball for core strengthening or as a giant ball for kicking, rolling and just playing around. Exercise balls are wonderful, fun and highly therapeutic. They strengthen core muscles and provide great seating options for kids who need to wiggle. Use as a balance ball when fully inflated to develop proper posture and sitting habits.

Challenges balance and righting reactions

Good for children who are sensory seekers and need a good bounce.

Good for children who are sensory under-responsive and need good core positioning.

Made by Fun and Function

Age 3+

Ideas for Use

Partially deflate and use for sensory over-responsive kids who need to calm down. While partially deflated, this oversized therapy ball provides a calm space for sitting.

Getting Started

Great for children and adults. Available in 5 different sizes (measured in height). Add a ball base for more stability when using as an exercise or balance chair (sold separately). Holds up to 250 lbs. High Volume Pump needed for inflation (sold separately). To choose the right size ball for seating or exercise, measure the user's arm length from armpit to finger tip. Choose the corresponding size ball or the nearest size up. If in between sizes, order next size up.
---