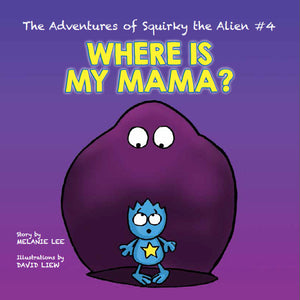 MPH
The Adventures of Squirky the Alien #4 - Where is My Mama?
Regular price
$8.70
Sale price
$10.70
Unit price
per
Squirky and his sister Emma arrive at Planet S with the help of Mr Quentin and discover it's a scary place with freezing weather and purple monsters!
However, things get less scary when they befriend a gentle purple monster called Crystal. Her mama has been missing for two days, and she's getting awfully worried! Squirky, Emma and Mr Quentin decide
to look for Crystal's mama, even as they search for Squirky's birth parents.

Where is My Mama? is the fourth book in The Adventures of Squirky the Alien series.

Our thoughts on the book: "Empathy is an important concept for children to grasp and is indeed much-needed in today's world. How can we put the needs of others abve ourselves? That is the question."
---