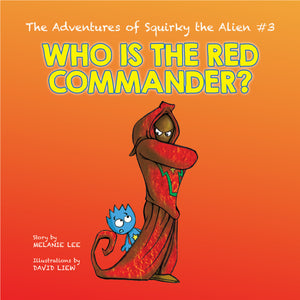 MPH
The Adventures of Squirky the Alien #3 - Who is the Red Commander?
Regular price
$8.70
Sale price
$10.70
Unit price
per
Squirky and Emma land on Planet R and are treated as intruders. They are brought to the mysterious Red Commander, who seems especially unfriendly and unwilling to help.
However, the Red Commander reacts strongly upon finding out who Squirky is. Why? Will Squirky get any closer to finding his birth parents?


Who is the Red Commander? is the third book in The Adventures of Squirky the Alien series.

Our review of the book: "The processing of emotions is part of their journey, and being able to validate these emotions as various parts of their adoption story unfold is part of the cycles of understanding and healing that will occur, possibly over a lifetime. Rarely do children's books portray character's emotions in such a clear and candid manner. Melanie's prose is simple and easy for young children to understand, and David Liew's vividly colored illustrations with their stark outlines convey the message clearly."
---