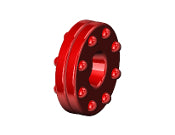 Sensory University
Mini Roller Hand Fidget XL (Pack of 3)
Regular price
$18.80
$0.00
Unit price
per
The Mini Roller XL was designed from the Original Mini Roller, but larger to accommodate larger hands!
Due to the alternating textures on the outside of each disc, its user obtains an instant calming effect by rolling them between his or her fingers.
Unit is roughly the size of 100mm so it can easily tuck away in hand to avoid embarrassing attention.
Works great in the office, the car, school, church, or anywhere fidgeting or anxiety become an issue.
Each order comes with 3 fidgets so keep one in the car, one in the office, one at school, one at home, etc.  
Ages over 3 due to size and choking hazard.
---