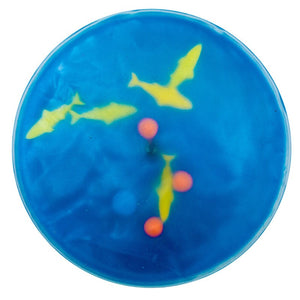 Fun and Function
Fishy Gel Cushion
Regular price
$48.80
$0.00
Unit price
per
PRE-ORDER ITEM: This item will take 4-6 weeks to arrive after your order is placed.

A Lil' Wiggler's Dream Seat

These Squishy Gel Cushions let kids wiggle to improve concentration and attention skills while allowing them to stay in place.
The Fishy Gel Cushion has floating fish inside, giving kids something extra to explore with their fidgety fingers. Perfect for added sensory input during circle time, floor time, dinnertime, homework, school work, desk work, test taking and more.
These cushions are also a great way to mark each child's seat so that they stay in place during lessons and learning time. Use as a seat cushion or fine motor fidget Ideal for young children with sensory issues or autism.
Made by Fun and Function.
Ages 3-9.
Ideas for Use
Place them on a child's lap to serve as fidget toys and to provide tactile stimulation, or use as a seat cushion to allow for movement during learning time.
Get a set for your entire classroom or to for all your children to use on chairs or during floor work!
---