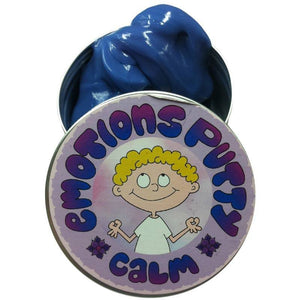 Fun and Function
Emotions Putty - Calm
Regular price
$25.80
$0.00
Unit price
per
Color-changing (calming) putty and metallic (energizing) color putty! Emotions Putty takes sensory therapy to a whole new level of fun, and reduces stress too. Kids with low tone love the way Emotions Putty warms up their hands for handwriting, and kids with a "gorilla" grip relax their fingers as they play. Choose Calm Emotions Putty in soft resistance or Energize Emotions Putty in firm resistance. 

As you squeeze Calm Emotions Putty*, the color changes from purple to blue, encouraging kids to manipulate, twist and pull. The cool colors have a soothing effect, and the transformation encourages repeat play. 

Sparkly, shiny and irresistible, our Energize Putty engages kids who have low tone, or who are delayed responsive or sensory under-responsive. Create different shapes or just squish the metallic-colored putty for hours of energizing fun. 

A great warm up and for busy fingers, Emotions Putty is packaged in storage tins for easy travel in your child's backpack, in your purse, at school or at home. Gluten, casein, latex and soy free. Not for mouth or chewing. Safety-tested. CPSIA compliant. High-quality professional putty. 3 oz. container. Age 3+.

Note: *Calm Emotions Putty can be "moody" and may need to be briefly cooled next to an air conditioner or in a refrigerator. The putty will turn purple, and then warm to blue when you touch it.
---