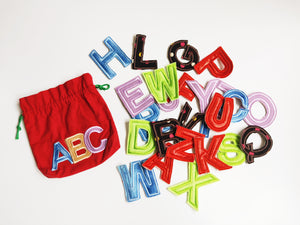 Fun and Function
ABC Touch & Feel Letters
Regular price
$43.80
$0.00
Unit price
per
Learn the ABC's by Touch!
These ABC Touch and Feel Letters turn letter recognition into a multisensory experience by providing children with letters they can feel. The 26 letters have different colors and textures, and are have a 3" diameter. Includes storage bag with pull string, making it easy to learn the ABC's anywhere!


Great for developing motor planning and letter and color recognition

Ideal for speech and language development and early reading skills

Handy carry bag to take letters anywhere

Made by Fun and Function

Age 2+

Ideas for Use

Put them on a desk, floor or carpeting and have kids sort by colors, sounds and textures. Use in school, home or therapy clinic.

Upper Case Letters only.
---