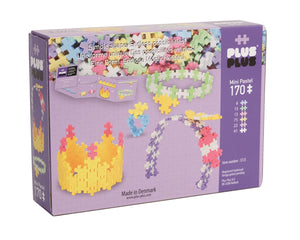 Plus Plus
Plus Plus Mini Pastel Jewelry (170 pcs)
Regular price
$19.80
$0.00
Unit price
per
PLUS PLUS JEWELRY MINI 170PCS
Whether for young kids, tweens or 'kidults', everyone will love using their imaginations with Plus-Plus.
Just one simple shape will give them endless possibilities and hours of fun.
Plus-Plus bricks are precision crafted in Denmark and are BPA-free and phthalate-free European plastic.
Their pastel colours will show off their creative flat mosaic or 3D designs, as well as stimulate their innovative talents.
Plus-Plus comes with instructions in the pack. 
Gift them as a party favour, package topper, new-big-brother or sister present. Or, just add some Animals to your Plus-Plus collection and your Zoo collection!
Multiple award winner and highly supported for educational purposes.
SUMMARY FEATURES:
Simple yet expandable construction toy
Easy enough for preschoolers, but scales with age and imagination; Even "big kids" love them!
Makes flat 2D mosaics or 3D models of all kinds
Designed & Manufactured in Denmark
Ages 3 years and up
---