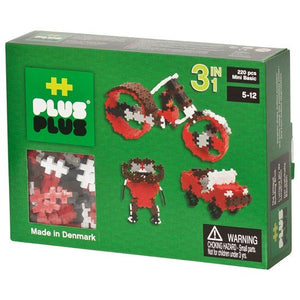 Plus Plus
Plus Plus Mini Basic 220pcs 3-in-1
Regular price
$25.80
$0.00
Unit price
per
PLUS PLUS DANISH BLOCKS MINI 600PCS - SIMPLISTIC SHAPE. ENDLESS POSSIBILITIES!

This Basic Colour 220 piece pack comes with mixture of blue, green, red, yellow, purple, orange, brown, grey, black and white mini bricks.

Brand new in the UK, Plus-Plus building blocks have been gaining in popularity over the last few years in its home country of Denmark -where they are so highly thought of, they are used in most schools as part of their school curriculum.
There are practically no limits unlike other famous building block toys which are fixed in the designs /models to be built.

These strong, durable, washable blocks can be joined at all angles and in all directions, thereby offering endless assembly  possibilities and making them ideal educational toys and for complementing learning: such as numbers, colour recognition and sorting exercises. 

Plus-Plus blocks are award winners and come highly recommended both by parents as well as the professionals alike.

But be warned: we've found them incredibly ADDICTIVE!

SIMPLISTIC SHAPE. ENDESS POSSIBILITIES! 
The length size per block is 20mm. 

Suitable for ages 3+, for girls and boys.

Free from phthalates and PVC.
Made in Denmark. 
---